This is a design exercise I did for Google's 2018 User Experience Internship. My thought process of finding and addressing the problem as well as my final visual solution to it can be found below. 
Time spent on this exercise:
~10 hrs (solution itself) + 5 hrs (putting things together & writing this document)
Software Used:
 Adobe Xd, Illustrator
Full resolution files included in this document can be seen
here
. (Due to some problem of my illustrator, the visuals I'm using here are screenshots and therefore have some awkward dark outlines that are not originally on the screens.)
Design a mobile app that would allow you to gift and receive money to and from friends and family digitally. For example, one can gift money for Lunar New Year, weddings, Christenings, etc.
I started out by brainstorming about "
digital monetary gifting
", where each one of the three words becomes a core:
-- When & why do we gift money?
        1. for personal events: birthday/wedding/christening etc.
        2. for public festivals: christmas/lunar new year etc.
        3. to show gratefulness to someone
        4. to help people: charities/individuals etc.
-- How does money function as a gift?
        1. historical & cultural reasons
        2. usually given in person to show appreciation/attention to the importance of an event
-- Why do we do it digitally?
       1. not be able to gift cash in person
       2. more convenient for the receiver to collect
       3. not personally know the individual/organization/charity…
​​​​​​​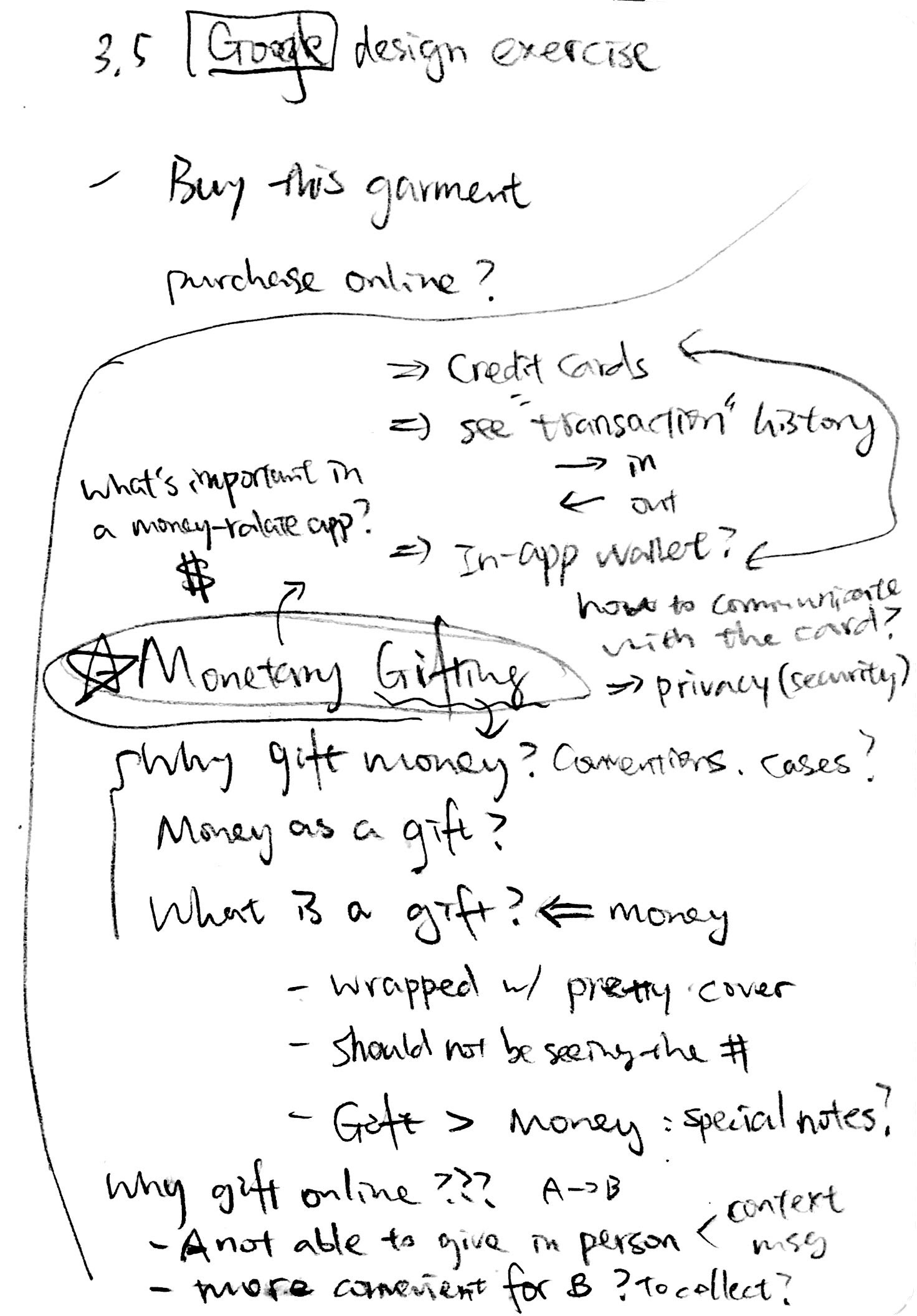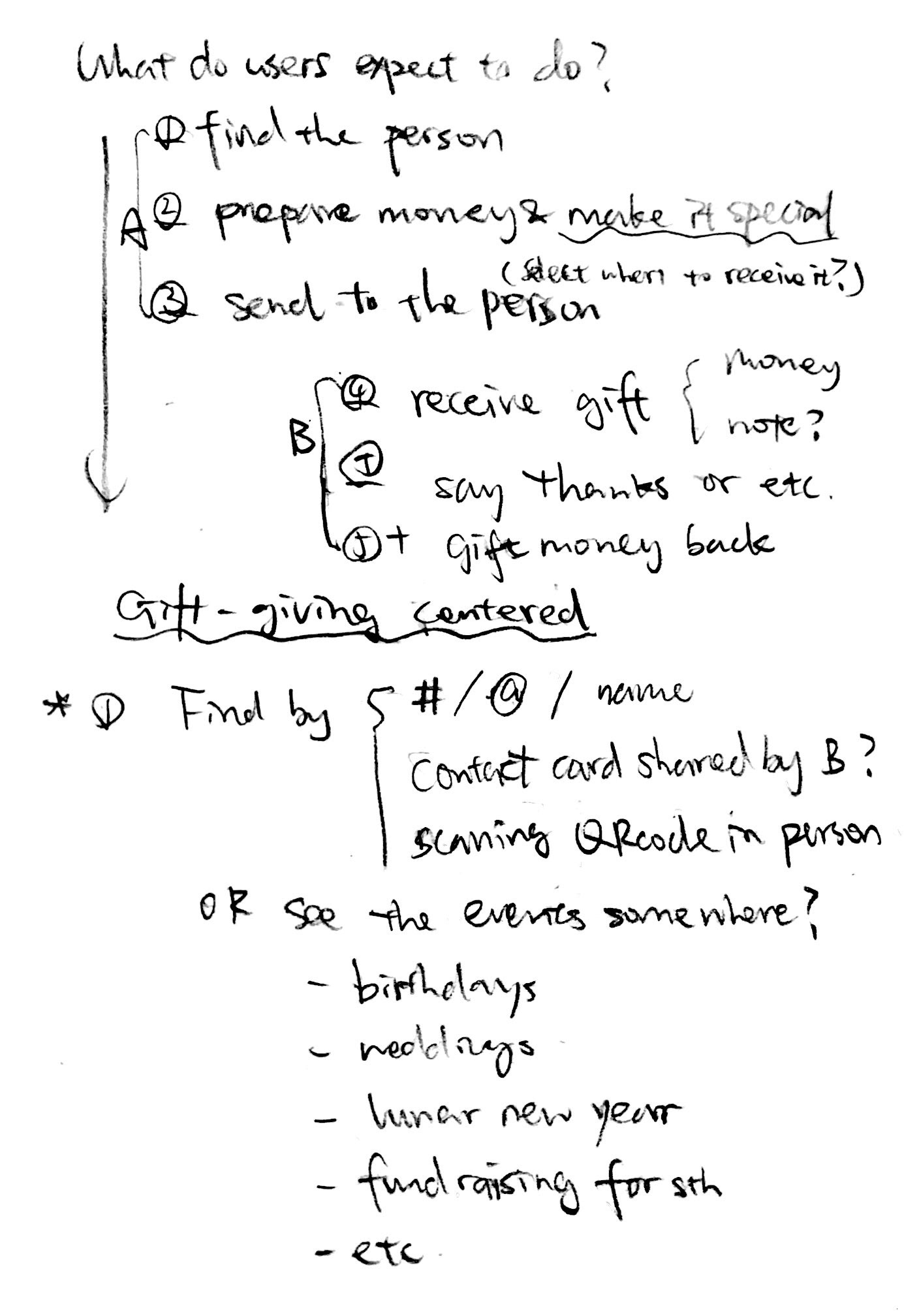 Then, I started looking at existing money sending apps, namely, Venmo, Paypal and the red packet feature in Wechat. Paypal is usually used in formal cases for transferring large amount of money, while Venmo, though focusing more on the social aspects, also fails to be a good platform for money gifting because monetary value is at heart of its functionalities and it doesn't help building connection between people. The red packet feature in wechat is, however, worth looking at, since all Chinese people use it for the sake of giving pocket money for Chinese new year and even more general cases.
From brainstorming about the concept of digital money gifting and looking at current money sending apps, I identified the problem:
On digital platforms, since people who give the gift and the receivers don't see each other which is contrary to historical cases, monetary values always weigh more than the "gifting" aspect, and the meaning of the action is greatly undermined. 
How can we make digital money gifting a way to strengthen connection among people?
To solve the problem above, I think two points are important:
-- One is to keep in mind that gifting is about people, not money:
social gifting > money transferring
-- The other is that looking back at why people sometime have to gift money digitally is important and we should
magnify the pros of doing so
in our app in order to make digitalization of the action more appealing to people.
Looking back at our research in the first phase, we can come up with some features of the app that will help solve the problem:
1. not be able to gift cash in person
        - 
we can attach the gift with special meaningful notes and "giftify" the money
--> money as a card
2. more convenient for the receivers to collect
        - 
make it more convenient, even for the case of gifting in-person
--> QRcode embedded
3. not personally know the individual/organization/charity…
        -  
make the receivers known to more people, especially for charitable events
--> make a receiver-oriented feed
4*. a social media platform
        -  
make processing money to gift as easy as possible
--> shortcuts to 
prepare gift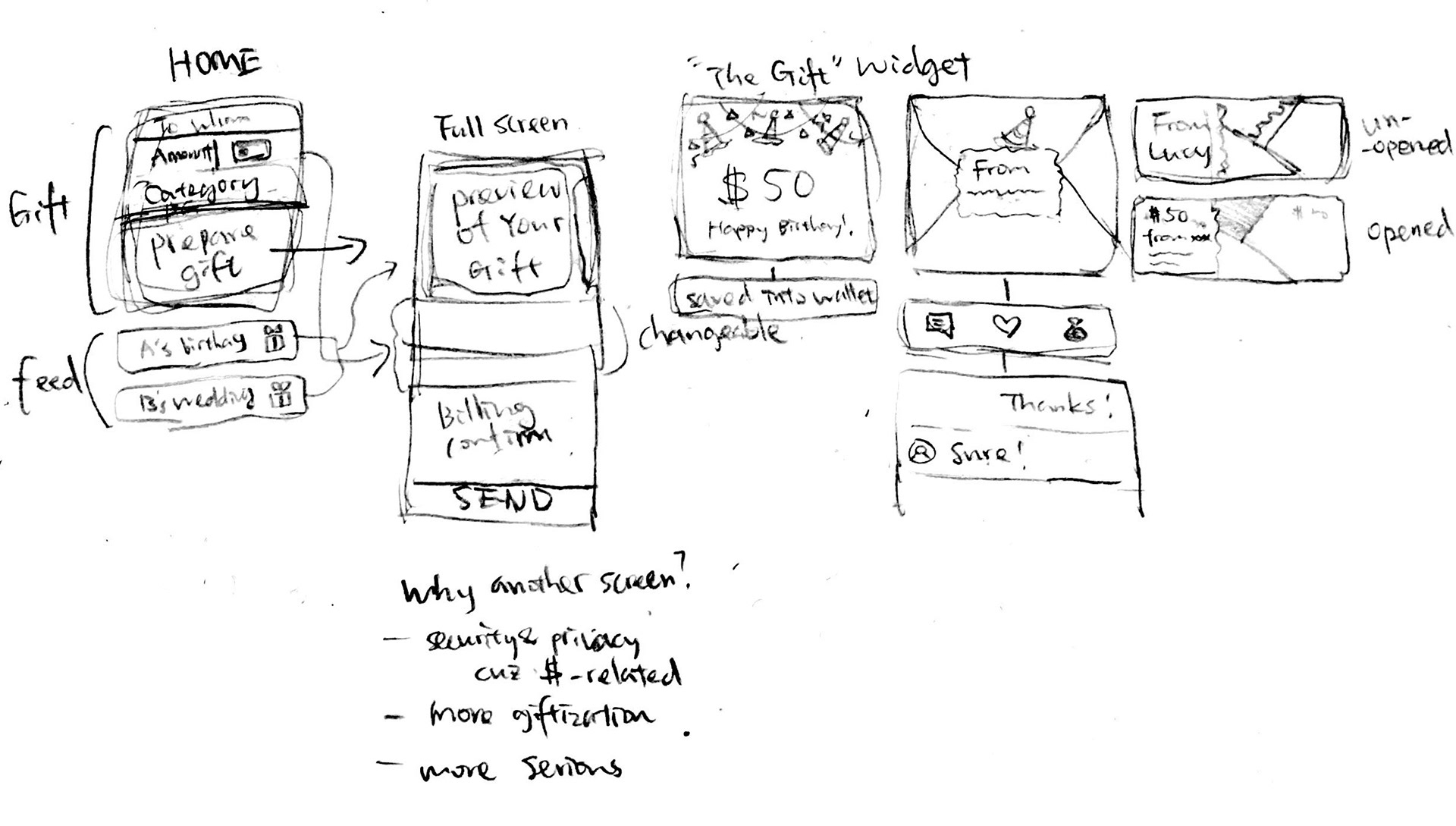 With all these in mind, I made the following wireframes for the app.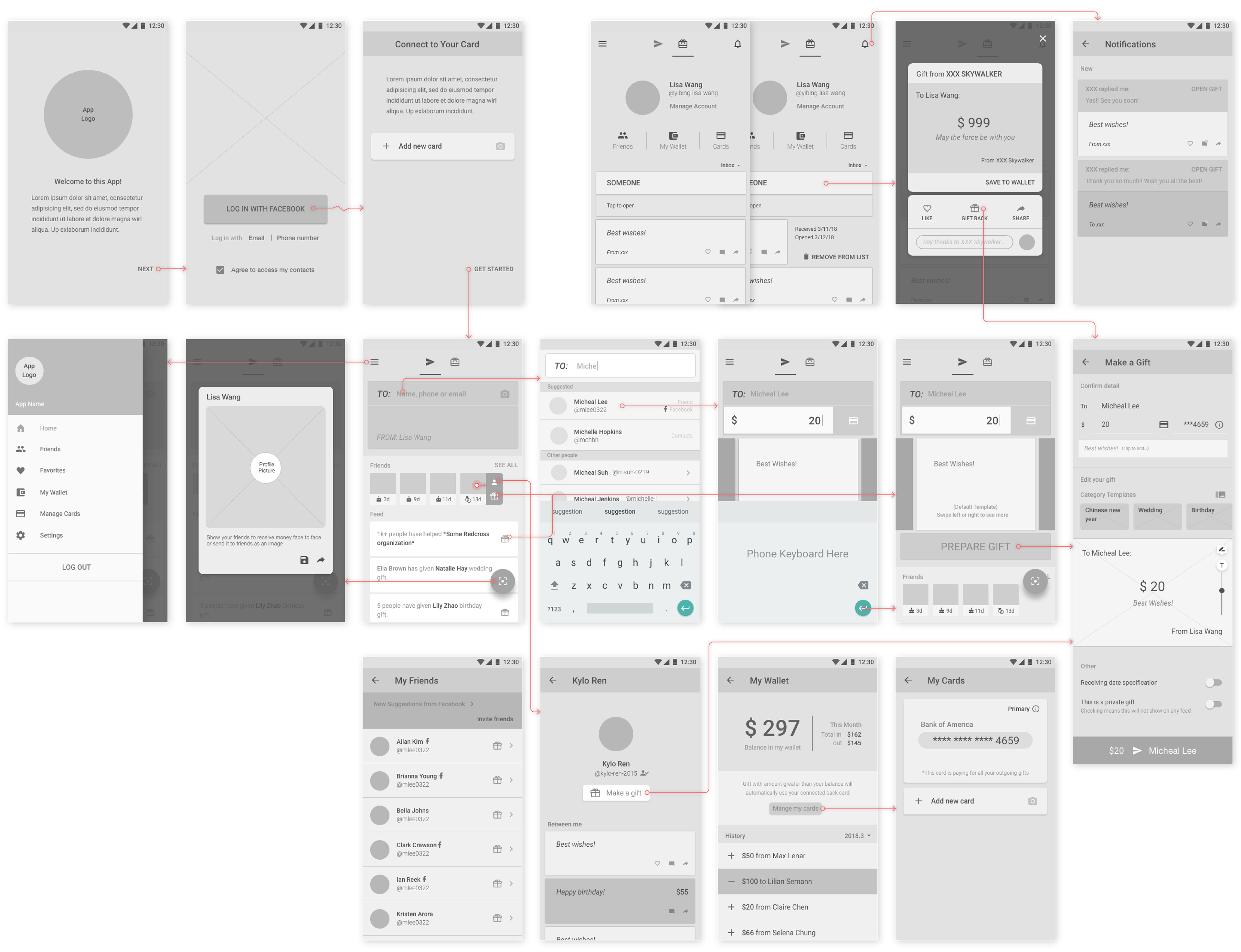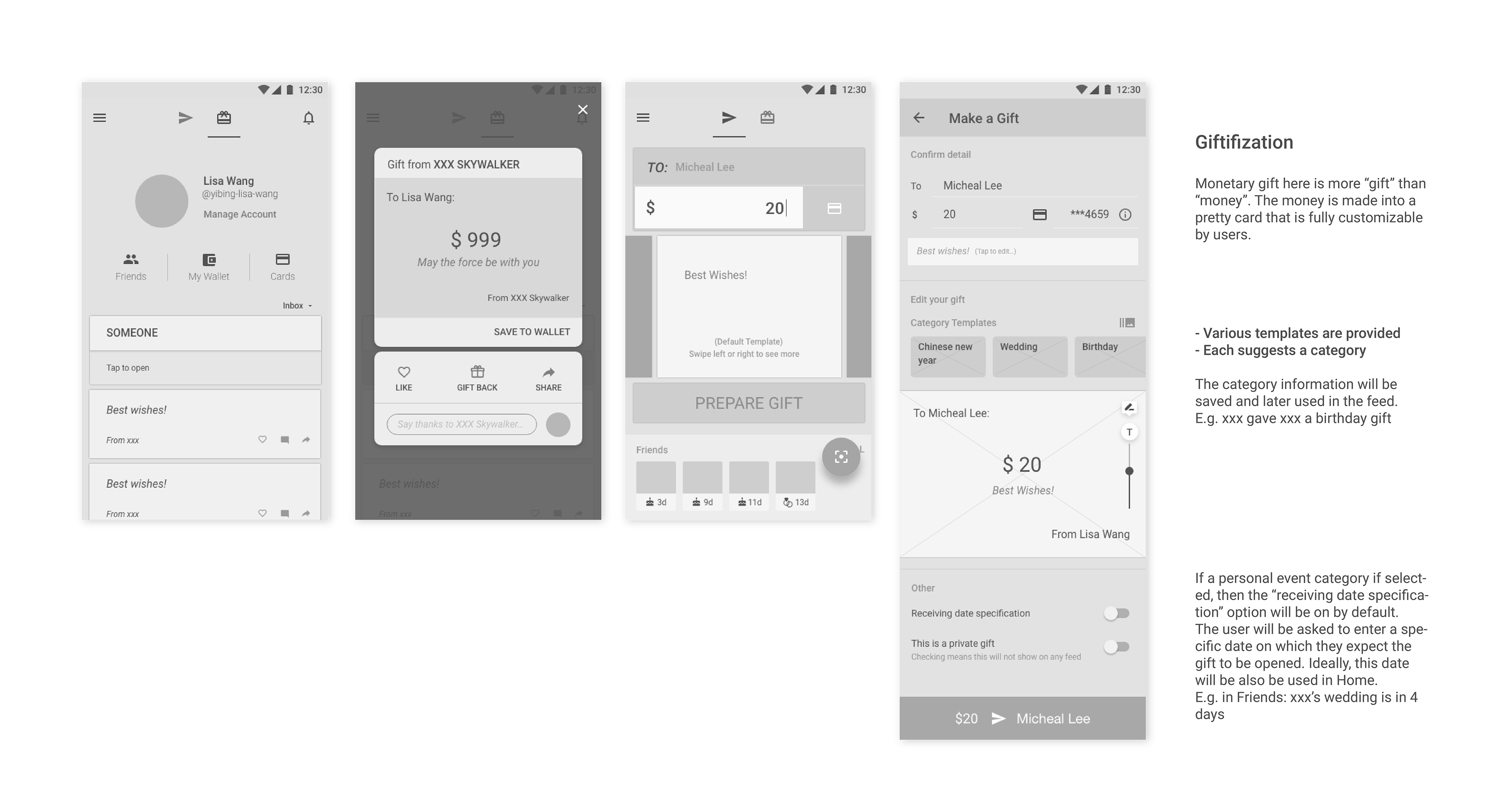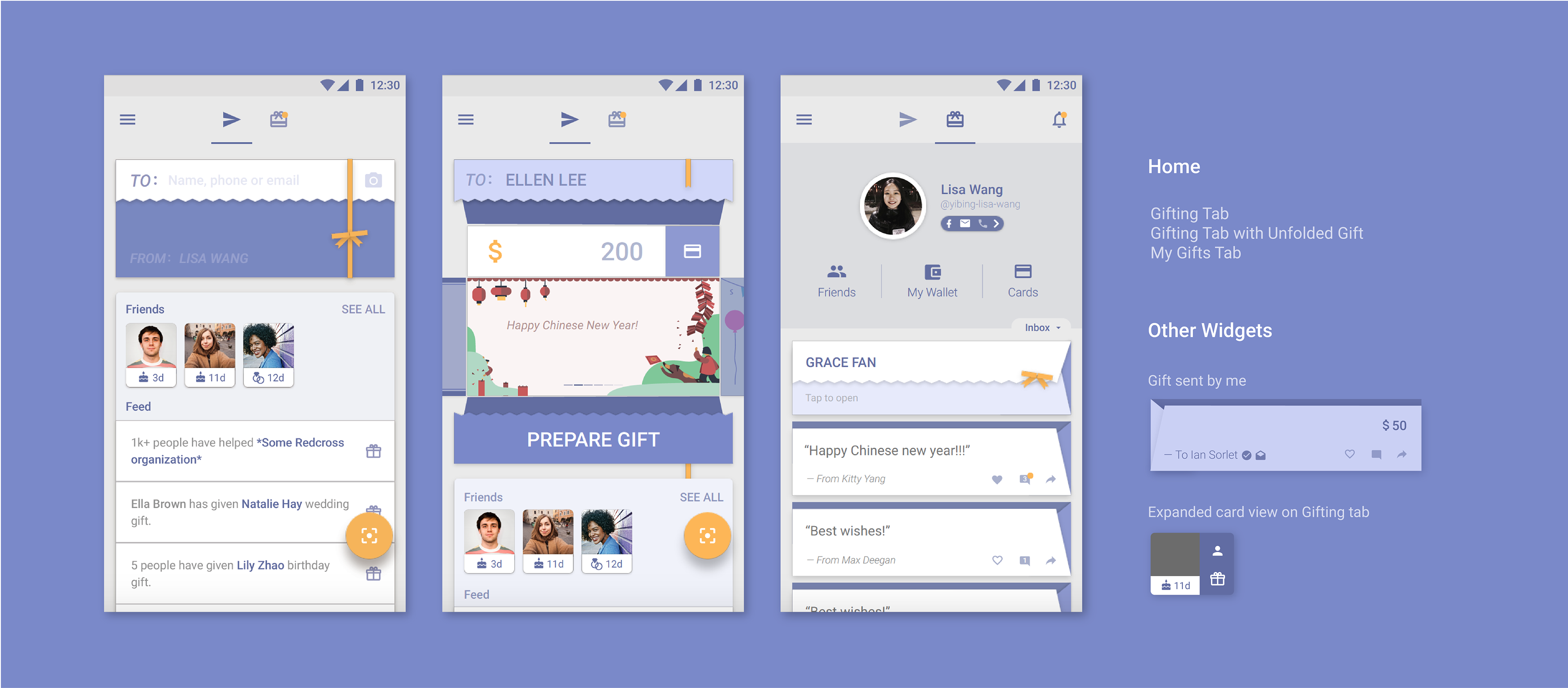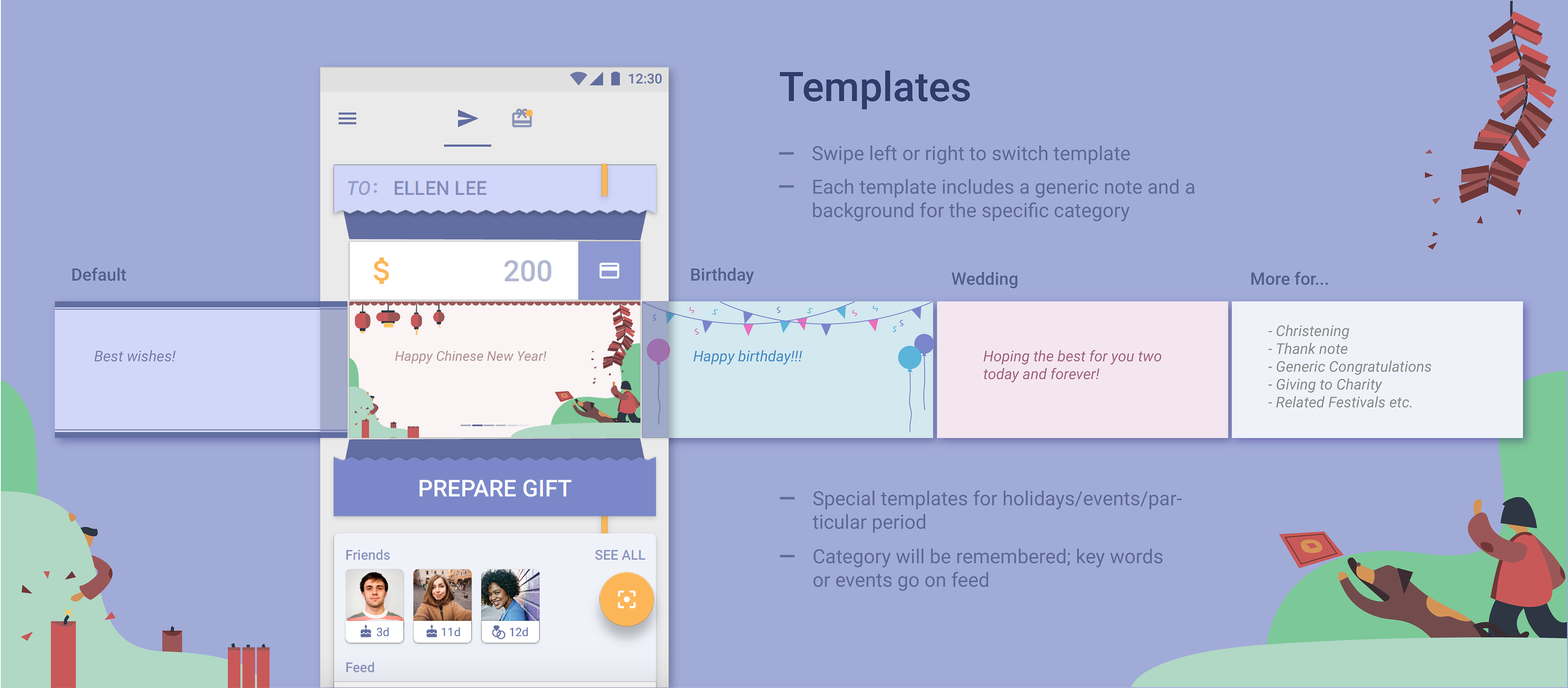 And this is the end of this design exercise.
Except for some components and icons from the Google Material design kit, all of the visual works including the illustrations are done by myself.
Thank you so much for reading!